"Would you like your rings engraved?"
21 January 2021
Categories: WEDDING RING ENGRAVING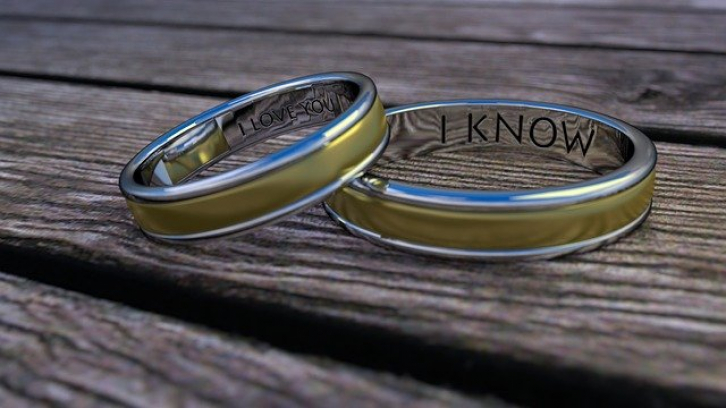 "Would you like your rings engraved?"
So, you've chosen your perfect rings - you've thought about the metal, the design, the width, whether you want the rings to work as a pair, and the all-important question around bling: none, some or LOADS! You've answered all the questions and you're feeling on top of the world - you've really aced this ring designing business! Then, at the end of your wedding ring appointment with one of our advisors, one last question that can send even the most prepared into a tailspin...  "Would you like your rings engraved?" 
This is usually when the love-heart-eyed couple turns to us and says "Oh crikey, what would you write?!"
Well, luckily we've been keeping tabs over the years. From traditional and religious to romantic and funny, here are some of our favourite engraving ideas below so you're ready for when we pop the question to you ;)
Romantic
27/11/20 (The date you got engaged)
Amore mio
"We belong together" (a song title or lyric you both love, perhaps one from your first dance)
50.8225° N, 0.1372° W (The coordinates of the location you met in)
I choose you
Mon amour
All my love
Never to part
My forever love
To the moon and back
Love of my life
My one true love
Today and forever
Forevermore
Traditional
I love you
15/05/22 (Your wedding date)
Always
Forever
Eternity
The infinity symbol
31/12/18 (The date you met)
To have and to hold
S&A (Your initials)
Till death do us part
Funny
I love you more than pizza
Non-refundable
Put me back on!
Do not remove
Human Level: Married
A deal's a deal
Better half
Why is this off
Resistance is futile
"Love Muffin" (Your own silly nickname)
Religious
Your favourite religious quotation
Love is patient, love is kind
God unites in love
Joined under God
Love is faithful
Do everything in love
Co-ordinating 
Ring 1: "After all this time?" Ring 2: "Always"
Ring 1: "Moon of my life" Ring 2: "My sun and stars"
Ring 1: "One ring" Ring 2: "To rule them all"
Ring 1: "I do" Ring 2: "Me too"
Ring 1: "I love you" Ring 2: "I know"
Ring 1: "I am my beloved" Ring 2: "And my beloved is mine"
Ring 1: "To infinity" Ring 2: "And beyond"

Now, if you're coming up with your own inscription, there's just one last thing to make you aware of. You've got 22 characters (including spaces) to play with. The challenge has been set.